(MISSION TO MOMBASA)
My journey to Mombasa Kenya (Miritini Province) in Africa was so amazing.. First of all before I begin to share about my experience I want to thank our Lord and Savior for trusting me with His assignment to bring visibility to His children hardship over there and I pray that after you read and see the photos that your hearts are touch to want and do what you can to help.
My journey began on July 13th when I touched down in Kenya, ready to serve. From the moment I stepped off the plane I saw the difference in our cultures. We are use to red lights and traffic signs, but there its like every person for themselves. I was introduced to this anointing young man that goes by Apostle Charles Bright who is well respected among the different villages. Apostle as I call him took me under his wing taking me out everyday to different effective areas within Mombasa.  He is truly a God fearing man who loves the Lord with all his soul, that' why I have appointed him as a representative for No Drama, No Stress in Kenya his love for God is visible and I felt safe being with him.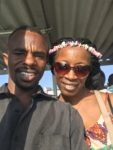 Family, glad I was use to walking because everyday after we were dropped off in effective area we walked for miles. Greeting men, women, and children sharing the love of Christ. Encouraging them to pray and trust God, providing words of faith, food for several days, shoes for the little ones, necessities items that most Kenyans are not accustom to using, products to help them start a small business to continue to provide for their families, small monetary donations based upon family and situation. The photos will speak for themselves and help me tell the story that I am trying to get across.
We visited many villages and feed over 500 people altogether, we supplied over $700 US dollars to different people, supplied many pounds food, water, shoes, clothing, but most importantly we supplied Love as God instructs us to.
My life will never be the same after this journey. I know I do outreach ministry here at home, prayer walks, feedings, necessity events, but it does not compare to what I saw and experienced there. After visiting with widows, widowers, single moms and dads, elderly, women prison, community hospital (nothing I was prepared for mentally), street community where people survive using any means necessary, Muslim community, parks within the city where homeless people lay and rest, women that has been abused because of their Faith in Jesus.
I meant so many people that need our HELP, our Prayers, our Compassion as Saints. It seems that Mombasa is over looked by Us for some reason when it comes to Missionary work. PLEASE, PLEASE LET THIS JOURNEY BE YOUR AS WELL AND HELP. Every 3 months I will be sending donations over to Mombasa. My Lord you suffered for us all and paid the price for us on Calvary, so lets pay Jesus back for His sacrifice by being a blessing to others.
Check out the photos below of journey and don't forget God loves and blesses a cheerful giver!